Presenting the new Bose® Lifestyle V35 system
This is the top of the range system, incorporating five tiny twin 'Jewel Cube' loudspeakers, a subwoofer, and what looks like a home cinema amplifier.
The beauty of this new system is the 'Unify' technology. The amplifier, like many home cinema amplifiers, has many connections to allow it to interface with the plethora of source components in a modern Home Cinema system;
Sky, freeview and cable boxes, Games machines, DVD and blu-ray players.
What Unify does is simplify the connection and control of these other systems, it uses 'easy-to-follow' on screen messages to guide you through the entire set up process. It even senses and lets you know when you've made correct or incorrect connections. The remote control and navigation menus make your entire system so easy to use, you may not even need the instructions.
Once set-up it uses Adapt-IQ technology to evaluate your room acoustic, the speaker positions and the seating locations and then adjusts the systems settings to ensure it sounds as good as possible.
The system also includes an iPod/iPhone-compatible dock, the Artist, Album and Track can be selected from a menu brought up onto your TV screen.
An FM radio is also included when you can't decide what music takes your fancy.
Of course we offer a full Custom Installation service on all our systems, we can come out and evaluate which equipment will best suit your room and budget, undertake the first fix cabling, and finally install and set-up the complete system, so you don't have to lift a finger other than to turn it all on once completed!
Prices are available for registered users from our Price List page.
Link to more information on the Bose V35 system on the Bose® website here.
Bose make a range of Lifestyle systems ranging from £2,000 for the Lifestyle T10 to £4,500 for the Lifestyle V35 system.
Below is a comparison chart listing their major features.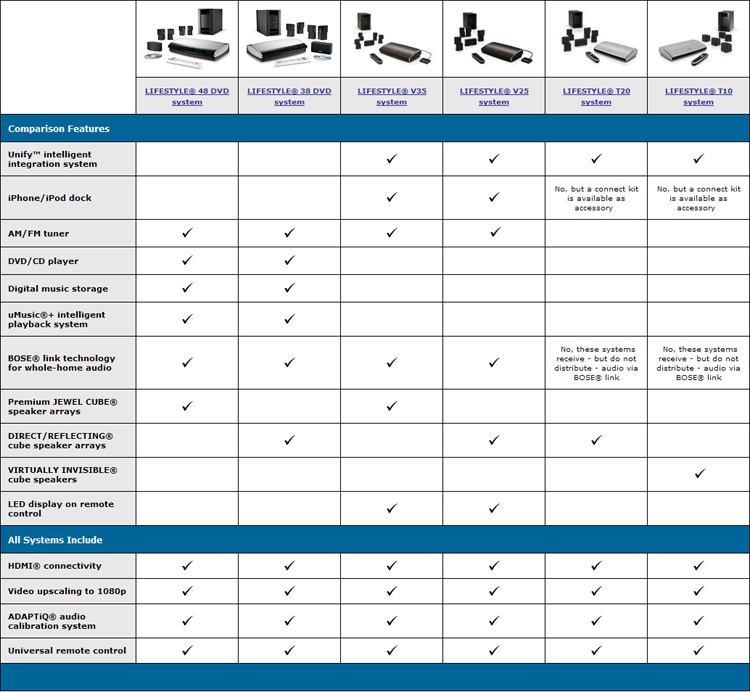 Related Downloads